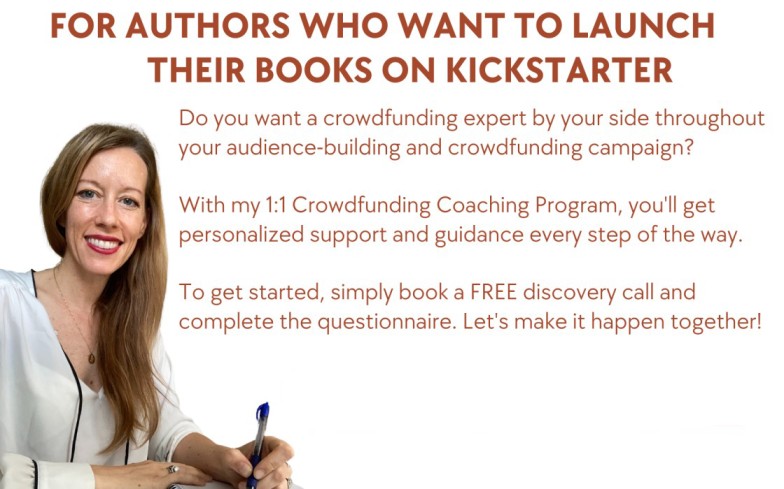 Company Information: Lisa Ferland Consulting – https://lisaferland.com Since 2017, Lisa has been working with authors to build their audiences, and launch their books on Kickstarter and IndieGoGo. She provides authors not only the resources they'll need to engage their readers, but also supports authors every step of the way with her coaching and 1:1 sessions.
Lisa Ferland
Kickstarter Mentor
After launching her first $10k campaign on Kickstarter and helping over 100 other authors do the same, Lisa discovered that her positive energy and spirit are best served when helping others achieve their dreams.
After working with authors in every genre, she has discovered what energy and practical support authors need the most when crowdfunding their books. Her focus is to provide authors with step-by-step coaching to help authors achieve their publishing goals—all while maintaining their creativity, setting their own budget, and marketing in a way that feels best. 
Welcome to the exciting "Your Launch Story" blog series! We would love to know how can Kickstarter help children's book authors achieve their publishing goals?
‣ 

Kickstarter is a powerful marketing vehicle for children's book authors.
‣ 

It helps drive readers to pre-order books and associated Kickstarter rewards to crowdfund the book's creation.
‣ 

Authors are responsible for driving traffic to the campaign page hosted on the Kickstarter platform.
‣ 

Crowdfunding campaigns utilize social proof, time-limited, and quantity-limited rewards to convert traffic and encourage backers.
‣ 

Kickstarter campaigns generate buzz and offer unique opportunities for readers to engage with the publishing process and the author.
What are some key factors to consider when planning a Kickstarter campaign for a children's book?
‣ 

First and foremost, it is very important that the author understands the book's marketing message. So many authors don't understand how many layers are within children's books and underestimate how many different marketing messages are within even a "simple" story. Children's stories often help children learn how to read through rhyme and repetition, introduce them to core family values, help with social and emotional regulation, and foster community, kindness, and connection. It is important for every author to create strong marketing messages that appeal to parents and to experiment to discover which message resonates the best.
‣ 

Once the marketing message(s) are established, the author needs to build and engage their audience. You cannot crowdfund without a crowd! The audience needs to be fully onboard with how a crowdfunding campaign works, what to do on launch day, and how best to support the campaign.


‣ 

The size and enthusiasm of the audience will determine the amount of funding one can raise. There are many authors who have strong personal networks, so those campaigns tend to do well. If an author does not have a large network, I would recommend setting a modest goal amount $5k or less.
‣ 

Creating an engaging and visually appealing is also very important, but not as important as growing the audience in the first place. Developing a robust marketing plan that can leverage multiple sources of traffic will help you reach and connect with your target audience.
Can you provide some examples of successful Kickstarter campaigns for children's book authors that you have mentored in the past?
‣ 

What Did We Miss? By Tiffany Semmons that succeeded within days of launch and then got an unexpected boost by another viral campaign on the platform proving that converting even a tiny percentage of a large audience can be a huge game changer for an author:

https://www.kickstarter.com/projects/whatdidwemiss/what-did-we-miss
What are the essential elements of a compelling Kickstarter project page for a children's book?
‣ 
Essential elements for a compelling Kickstarter page include a short video that introduces the story first and has a quick call to action to support the campaign. Only a small percentage of video watchers will finish the video, and that rate of completion plummets the longer the video length.
‣ 
The campaign should showcase your book's cover, and a few interior illustrations. If the author can hire the illustrator to create custom banners and graphics for the campaign and the campaign milestones, that is always an extra touch that provides consistency on the page.
How can authors effectively engage and connect with their target audience during a Kickstarter campaign?
‣ 
Authors can effectively engage and target their audience with regular and transparent communication via email, social media, and Kickstarter project updates. Some authors create Facebook groups where the author can post status updates and engage on a more personal level than done publicly. One-to-one connection is so important for getting backers to a campaign, so having a backer's email, phone number for text messaging, or connecting with them on social media messengers is crucial.
‣ 

Listen to the feedback from your readers and show them that you're incorporating their feedback and they will feel invested in your book and your campaign's success.
What are some common mistakes or pitfalls that children's book authors should avoid when launching a Kickstarter campaign?
‣ 

One common mistake in crowdfunding campaigns is setting funding goals that are too high. It's important to have a realistic understanding of conversion rates and to be cautious not to overestimate the number of people who will back the campaign.
‣ 

It is crucial to have a clear purpose for crowdfunding the book and be able to make a compelling case for why someone should support the campaign. Without a strong reason, it becomes challenging to convert people to back the project.
‣ 

During the 30-day campaign, some authors may become tired and stop actively posting content on social media or sending emails to their readers. However, it is vital to continue engaging with the audience and conducting outreach efforts to maintain momentum and support.
‣ 

It is normal to feel discouraged when new strategies don't yield significant results, but persisting with outreach to readers is essential for the success of the campaign.
How can authors set realistic funding goals for their children's book projects on Kickstarter?
‣ 

Authors should determine the ultimate goal of their crowdfunding campaign. It could be to raise funds to cover expenses, reach a specific number of readers, or launch the book to a larger audience with special rewards for early backers. The goal will influence the financial target.
‣ 

Understanding the costs involved in editing, formatting, illustrating, and printing the book is important to determine the necessary funds to break even.
‣ 

The campaign goal should also consider the size of the readership and the network of individuals interested in pre-ordering the book through Kickstarter.
‣ 

Most children's book campaigns attract over 100 backers and fund between $5k and $15k.
‣ 

To reach 100 backers, an audience of approximately 800-1000 people may be needed, depending on the conversion rate.
‣ 

Highly-engaged audiences typically have higher conversion rates, whereas less engaged audiences may have lower rates due to minimal interaction with emails or social media posts.
What are some effective strategies for promoting a Kickstarter campaign and reaching a wider audience?
Here are few effective strategies:
‣ 

Reaching a wider audience requires a comprehensive strategy and preparation before launching the crowdfunding campaign.
‣ 

Social media platforms can be effectively used to increase visibility, create awareness, and drive readers to sign up for email updates.
‣ 

Sharing campaign updates, behind-the-scenes content, illustrations, and resonating marketing messages on social media helps engage and attract readers.
‣ 

Actively engaging with online and in-person communities helps raise awareness and strengthen personal connections.
‣ 

Collaborating with influencers, bloggers, or podcasters can expand the reach of the campaign, even though the conversion rates may be lower.
‣ 

Press releases have limited effectiveness unless there is something remarkable happening, such as achieving a significant fundraising milestone in a short period of time.
How important is it for children's book authors to have a strong online presence and community before launching a Kickstarter campaign?
‣ 

Authors can succeed at crowdfunding their books in many ways and some authors do it solely utilizing one social media platform, or via email marketing.
‣ 

Other authors have large social media presences and connect with their readers there. Anything can work, as long as you can directly communicate with your audience in some way.
Can you provide insights on the timeline and preparation required before launching a Kickstarter campaign for a children's book?
‣ 

The timeline for preparing a Kickstarter campaign can vary based on audience size and funding goal.
‣ 

Starting from scratch, it's advisable to allocate 6 months to a year to grow and engage the audience.
‣ 

However, many authors choose to launch after 3 months of targeted audience building and engagement due to impatience.
‣ 

The Kickstarter campaign itself should ideally be 30 days or less, unless there are significant events spanning two months.
‣ 

All Kickstarter campaigns are limited to a maximum of 60 days.
‣ 

Rewards should be fulfilled within 10 months of backing, and regular monthly communication with project backers is recommended to keep readers informed of progress and expectations.
What are some alternative crowdfunding platforms that children's book authors can consider, and how do they compare to Kickstarter?
‣ 

I highly recommend to focus on crowdfunding platforms like Kickstarter or IndieGoGo, as they offer the all-or-nothing or fixed-funding model.
‣ 

The all-or-nothing model reduces risk for backers and encourages more pledges during the campaign.
‣ 

Authors should consider the user-friendliness of the platform and prioritize rewards-based platforms.
‣ 

Platforms like GoFundMe are donation-based and not optimized for delivering rewards, which may go against their terms and conditions.
‣ 

Regardless of the platform chosen, provide clear instructions to your audience through videos, GIFs, or screenshots to guide them on creating an account and pledging to the campaign.
Are there any specific legal or copyright considerations that children's book authors should be aware of when using Kickstarter?
‣ 

Avoid copyright infringement and respect the intellectual property of others when conducting market research for your campaign.
‣ 

Prioritize creating a campaign that reflects your unique style, voice, and story rather than copying others.
‣ 

Transparency is crucial, so be upfront about estimated delivery times to manage backers' expectations.
‣ 

Honor promises made to campaign supporters, especially regarding exclusive content or rewards.
‣ 

Review the terms and conditions of the crowdfunding platform to understand what is allowed and prohibited.
‣ 

For example, Kickstarter strictly forbids hosting giveaways directly on the campaign page, although they can be conducted on separate social media platforms.
‣ 

Avoid requiring pledges (purchase) as an entry to giveaways, as it may conflict with US state laws regarding lotteries.
‣ 

Breaking the terms and conditions of a crowdfunding platform can result in project cancellation.
How can authors effectively leverage stretch goals and rewards to incentivize backers during a children's book Kickstarter campaign?
‣ 

Stretch goals are best announced after the project has successfully funded.
‣ 

It is hard to know what stretch goals will motivate the backers to continue to share the project, so be sure to query the backers and audience on social media.
‣ 

Stretch goals can be set monetarily or through number of backers.
‣ 

Rewarding all backers with enhancements to the book or bonus scenes, characters, etc,. is a great way to incentivize people to share the campaign further. 



Can you share any tips for authors on maintaining momentum and engagement throughout a Kickstarter campaign?
‣ 
The momentum will inevitably die out after the first few days after launch, but authors should post regular campaign updates including project reports, milestone achievements, and shout-outs to backers or large sponsors who share the campaign.
‣ 
Authors should engage backers through comments, messages, and social media interactions.
‣ 
Answering FAQs on social media is a great way to raise awareness and drive traffic to the campaign.
‣ 
Project updates can be provided to backers only and offer sneak peeks to the book or host private readings to backers.
‣ 
The goal is to have fun with your readers and keep your campaign top of mind.
What ongoing support or resources do you provide to children's book authors after their Kickstarter campaign ends?
‣ 

I work with many authors through my 1:1 crowdfunding coaching program that provides authors intensive support before, during, and after their Kickstarter campaigns.
‣ 

I also have a DIY course and offer group coaching twice a week to provide ongoing support at any stage of an author's campaign.